Tracy Booth
5 Older Women Athletes who are Totally Cushing it - because fierceness knows No Age
"I kick balls, deal with it" is one of the taglines of the #ThisGirlCan campaign, a 90-second video celebrating women's enjoyment of sport. Fronted by Sport England, and based on research that 75 percent of women would like to be more active, it is a body positive, uncompromising, and unpatronizing study in non-perfect ladies getting more active in a non-perfect manner. Featuring swimming, spin class, boxing, and squash, and performed by women of all shapes and sizes to the soundtrack of Missy Elliot's "Get Ur Freak On," the video acts as validation that women can jiggle and wiggle, giving zeros damns for any judgement they may receive. "Sweating like a pig, feeling like a fox" — who can't relate to that after an ill-advised morning jog? (Once the endorphins have kicked in, obviously).
But the campaign, while celebrated widely as an inspiring way to get women to think about sports, suffers from one recurring complaint: where are all the older female athletes at? It's easy to think of sports as a young person's game, particularly when the average retirement age for professional athletes is 33 — but nowhere in the rulebook does it say you need to give up once you hit thirtysomething.
When it comes to older women kicking tail in sports, inspiration can be found everywhere — from roller derby queens to yoga goddesses. Here are five amazing women sure to give you some inspiration.
1. Connie Dennison: Yoga
The world's oldest yoga teacher will turn 100 years old this year, having racked up about 40 years of sun salutations and downwards dogs.
Connie Dennison, who lives in the unassuming town of South Queensferry in Scotland, isn't officially recognized by the Guinness Book of World Records as the world's oldest yoga teacher, since, as she puts it, "It turns out I would need yoga qualifications … when I first started nobody had heard of yoga let alone had qualifications in it."
But Dennison has blazed a yoga trail throughout her family, proving that loving sport eclipses generations: her 72 year old daughter, 45 year old granddaughter, and 9-year-old great-granddaughter are all keen yoga practitioners.
2. Harriette Thompson: Running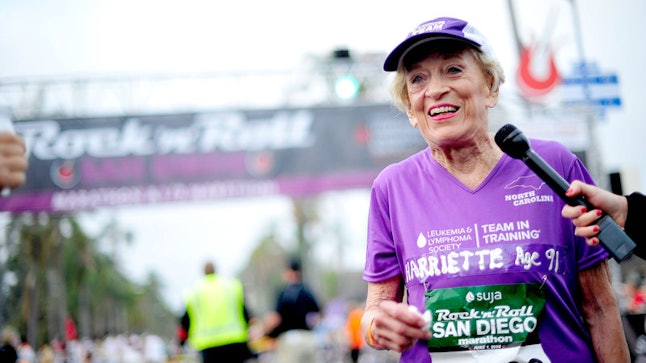 Last year, Harriette Thompson — who was 91 at the time, by the way — became the oldest person to finish the Rock'n'Roll San Diego Marathon. Not only did she smash the previous record for women over 90 by almost two hours, she did so afterreceiving radiation to treat skin cancer on her legs.
Her other main hobby, playing piano at church, is more stereotypical of her age, but Thompson says the only time she ever feels like a 91-year-old is when she's just kicked the ass out of 26.2 miles: "Lots of time I see young girls coming in hardly able to move and I think 'Well, that's pretty good that I don't feel that bad.'"
3. Ernestine Shepherd: Bodybuilding
After going bathing suit shopping with her sister at the age of 56, Ernestine Shepherd realized she was less than happy with her body. So, in a move that would be considered radical by someone a third of her age, she decided to take up bodybuilding.
Now 75, she's the oldest recognized female bodybuilder and spends her time running, lifting weights, and working out. It's not just her body that has seen positive results — Shepherd says she has never been happier. Working as a personal trainer for senior women, she lives by her three D role: "Determined ... Dedicated … Disciplined."
Meet Ernestine Shepard, world's oldest female bodybuilder
4. Donna Vano: Skateboarding & Snowboarding
Vano has been skateboarding since before skateboards were invented — (she made her own out of a pair of roller skates)— which led to her appearance in the Guinness Book of Records as the oldest female pro vert skater.